Where Music Therapy and Music Education Meet – A personal reflection
By Monica Zidar, RMT
23rd September, 2016
The Early Childhood Conference of Performing Arts, hosted by the Victorian Orff-Schulwerk Association was held in Melbourne, in August, this year. I was fortunate enough to be able to attend and, boy, was it worthwhile! A couple of hundred music teachers and music therapists from all over Australia (and the world) gathered together for a weekend full of the most inspiring, practical, music-making workshops, and the focus was all around children. Some very clever, dedicated people shared and demonstrated their resources (I left with a lot more hand luggage than I arrived with) and we were privileged to listen to Professor Emeritus John Feierabend share his insightful, evidence-based viewpoint on the importance of our role in the lives of each young child who enters our musical space.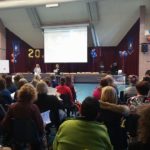 Being a post-graduate qualified Registered Music Therapist (RMT), I have always perceived my role and the purpose of our music early learning programs to use music to achieve non-musical outcomes, in our case, addressing childhood development and maximizing each child's potential prior to entering the formal school environment. Listening and reflecting on the conference and the words of Dr. Feierabend made me realise that our programs offer something else . . . the solid musical foundations required to mold little minds into musical ones.
So many parents come along to music with their little ones because they feel they "don't have a musical bone in their body" or they're "tone deaf" and they want their child to experience "musical" music. My response is always, "Don't be silly! Children love the sound of their mother's voice. You don't need to be musical to sing to your child." We know from the extensive research done in this area, that singing to your baby/young child helps to promote bonding and makes you feel good. That's the therapy viewpoint and it is undisputable. The educational viewpoint, however, looks at things a little differently . . .
As an educator, Dr. Feierabend has a 30-year plan for every infant that enters his musical space and I love it! He believes every child has the potential to be "Tuneful, Beatful and Artful', enabling them, as an adult, to keep a beat, sing tunefully, move with a sense of rhythm and respond to expressiveness. So, by instilling the beat, increasing the time that children get to experience being tunefully sung to and by being immersed in a responsive expressive environment at the critical neuro-development time of infancy (see the side note below for more info) we are heading in the right direction. It would be remiss of the therapist in me not to point out that research also demonstrates how rhythm, beat, pitch, tone and melody (all musical elements) are intricately woven into speech, literacy, numeracy and spatial development. I was a musician before I was a therapist and my passion has been re-ignited (not that it had ever been extinguished . . . maybe now it's burning twice as brightly ;-)) by the potential this combination gives me to help mold the precious little minds of your children.
On a side note –
The "stand-out" moment, for me at the conference, was Dr. Feierabend's presentation entitled Endangered Musical Minds – How the musical mind develops in the first years of life. His explanation of Harvard's Professor of Neurophysiology, Howard Gardner's theory of multiple intelligences really intrigued me. He explained that Gardner believes the mind is divided into eight areas of intelligence: linguistic, logical-mathematical, spatial, music, bodily-kinesthetic, interpersonal, intrapersonal and naturalistic. Pointing out that the density of synapses in our brain peaks by the age of two years, he stressed the importance of exercising all eight areas of intelligence by the age of two, as the atrophying of unused areas of the brain will occur from the age of two to sixteen years. He also stressed the importance of molding the mind through PLAY until the age of seven years, likening the eight intelligences to lumps of clay, all of differing sizes (depending on your genetic make up) that we have seven years to form into pots. It is not until the pots are formed that they are ready to be filled through formal instruction.
Monica Zidar, BA(Music), GDipMusThy, is a Registered Music Therapist (RMT) with a special interest in working with infants and young children of all abilities. She currently owns and directs Music with Monica, contracts her services to an Early Childhood Development Program (ECDP) for children with special needs and works in private practice on the Gold Coast in Queensland, Australia. In 2014, Monica was the recipient of 'The Richard Thompson Award for Excellence in Music Therapy' for outstanding service to the profession.